Written by Savagetraxx | 30 October 2017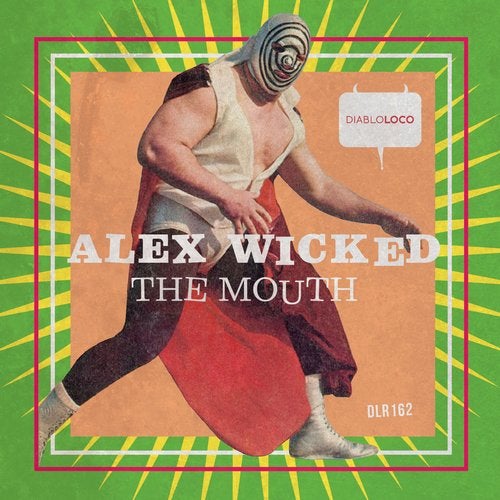 RELEASE INFO
_________________________________________________________________________________________
ARTIST: ALEX WICKED
TITLE: "THE MOUTH" WAV/MP3
LABEL: DIABLO LOCO RECORDS
CAT. No: DLR162
RELEASE DATE: LATE OCTOBER
GENRE: Breaks
COVER DESIGN: 246 Design
DISTRIBUTION: Disco Distribution
DIABLO LOCO RECORDS is the new quality label focused on Tech-Funk, Electro-House, Tech-Breaks sound by top artists of the international scene. Inspired by the traditional Mexican wrestling culture and the famous Luchadores the label aim to deliver top class singles, remixes, compilations and design!
The mighty Spanish Luchador ALEX WICKED aka "Dragonfly" is doing his proper DIABLO LOCO RECORDS debut with a totally stunning piece of work! He's well known to Lucha Libre family with his previous remixes for the label, he's a tall wrestler, with Cuban origins, whose eyes are never shown! He's one of the few insect-classed wrestlers and he's addicted with black Rum, naked ladies and exotic fruits!!! "The Mouth" is a dancefloor destroyer and is specially made by him for all DIABLO LOCO RECORDS fans and supporters!! Faya on the dancefloor!
DIABLO LOCO RECORDS "THE TRUTH BEHIND THE MASK"
Available LATE OCTOBER from selected major online retailers.
PLEASE SEND US YOUR FEEDBACK…..
www.myspace.com/diablolocorecords
soundcloud.com/diablo-loco-records
www.discodistribution.com
soundcloud.com/wardmusictenerife
_______________________________________________________________________________________________
PREVIEW ON SOUNDCLOUD
soundcloud.com/diablo-loco-records/dlr16...wicked-the-mouth-cut
BEATPORT LINK
www.beatport.com/release/the-mouth/2137786