Written by Savagetraxx | 07 November 2017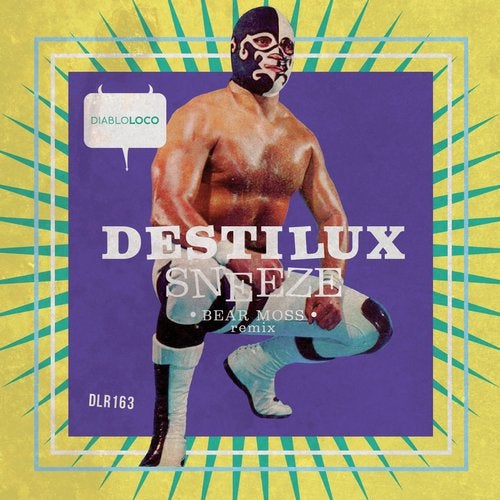 RELEASE INFO
_________________________________________________________________________________________
ARTIST: DESTILUX
TITLE: "SNEEZE/SNEEZE (BEAR MOSS remix)" WAV/MP3
LABEL: DIABLO LOCO RECORDS
CAT. No: DLR163
RELEASE DATE: LATE OCTOBER
GENRE: Breaks
COVER DESIGN: 246 Design
DISTRIBUTION: Disco Distribution
DIABLO LOCO RECORDS is the new quality label focused on Tech-Funk, Electro-House, Tech-Breaks sound by top artists of the international scene. Inspired by the traditional Mexican wrestling culture and the famous Luchadores the label aim to deliver top class singles, remixes, compilations and design!
No rest for the wicked! The stylish Spanish Luchador DESTILUX aka "Primero Faya" is back on duty and ready to set dancefloors on fire with another piece of ElectroFunky Breaks excellence! The world of "Primero Faya" is not the world of an ordinary guy. In this episode of his Lucha Libre missions he's takin a long trip to the mysterious and isolated island of Tropicansi deep in the Polynesian seas in order to fight against a supreme gang of blood thirtsy maoris that terrorising all villagers of the island! By his side, quality USA Luchador BEAR MOSS aka "El Malefico" is back on DIABLO LOCO RECORDS for some ultra thrillin and top class piece of Tech-Breaks phatness!!
DIABLO LOCO RECORDS "THE TRUTH BEHIND THE MASK"
Available LATE OCTOBER from selected major online retailers.
PLEASE SEND US YOUR FEEDBACK…..
www.myspace.com/diablolocorecords
soundcloud.com/diablo-loco-records
www.discodistribution.com
soundcloud.com/destilux
www.beatport.com/artist/bear-moss/474439
_______________________________________________________________________________________________
PREVIEWS ON SOUNDCLOUD
soundcloud.com/diablo-loco-records/dlr163-destilux-sneeze-cut
soundcloud.com/diablo-loco-records/dlr16...-bear-moss-remix-cut
BEATPORT LINK
www.beatport.com/release/sneeze-sneeze-bear-moss-remix/2137807